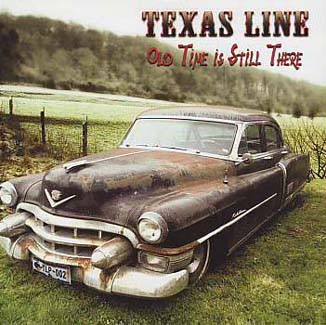 Dans un paysage musicalo-médiatique français où la country est réduite, c'est le moins qu'on puisse dire, à la portion congrue, c'est toujours un bonheur de voir émerger un nouveau groupe qui choisit, de manière courageuse vu le contexte peu favorable, de servir malgré tout la plus belle musique du monde. Dans la série, ils sont français, ils sont country – et en plus, ils sont vachement bons ! –, voilà donc le groupe Texas Line.

A savoir : Olivier Bernon (chant lead, guitare), Jeff Gautier (drums, chœurs), Jean-Marc Hébert (basse, chœurs), Manu Bertrand (steel guitar, dobro, banjo, mandoline), Olivier Leclerc (violon, mandoline), Ralph Adam (piano). De ces six là, je connais surtout Jeff qui est aussi – et c'est une référence – le batteur du groupe Bus Stop.

Leur album 12 titres s'appelle Old Time Is Still There : le (bon) vieux temps est toujours là. C'est un bon titre et une bonne profession de foi qui nous garantissent que l'on ne va pas patauger dans la country pop ou pire encore…

Le choix des morceaux présents sur ce CD le confirme à l'évidence : Folsom Prison Blues (Johnny Cash) ; Bonaparte's Retreat (un standard de Pee Wee King, tous deux méconnus – le morceau et Pee Wee King – en France) ; Watermelon Crawl (Tracy Bird) ; Ain't Nothing Like (Brad Paisley) ; Harvest (Neil Young). Et aussi : Margaritaville (Jimmy Buffet) et That's How I Got To Memphis (Buddy Miller). Un mot de ces deux titres.

Le premier, Margaritaville est un morceau emblématique de Jimmy Buffet, chantre, comme on sait, d'une country où les saveurs caraïbéennes affleurent sous chaque note. Le groupe Texas Line en a saisi l'esprit et en donne une version tout à fait it's five o'clock somewhere…

Le second, That's How I Got To Memphis, est un grand classique country malheureusement plus ou moins salopé en français par Eddy Mitchell sous le titre Sur la route de Memphis. On le retrouve là dans sa version genuine sans détour saugrenue sur une banquette arrière de police avec un chien-loup au regard un peu fou…

Mais Texas Line ne se contente pas de covers, aussi bons soient-ils. Leur album comporte en effet cinq compositions originales, presque toutes signées par Olivier Bernon et Jean-Marc Hébert : Now I See The Light (qui aurait plu à Hank Williams) ; A Cowboy's Life (qui sonne comme un classique) ; Old Time Is Still There (qui a donné son titre à l'album) ; Dust & Shade (du seul Olivier Bernon) ; Singing The Honky Tonk (ce qui est tout un programme en soi).

Histoire de se concilier les faveurs des remueurs de popotins sans doute, Texas Line indique les danses que l'on peut exécuter (à tous les sens du mot, hélas…) sur chacun des morceaux. Mais, avant de gigoter sur ces titres, écoutez-les avec le cœur et les oreilles : Texas Line n'est pas un groupe de « plus », c'est un combo de musiciens de grand talent.