Hank Harral a commencé sa carrière de chanteur comme "Le Yodeler Happy" au KGRS et KDGA, à Amarillo. En 1933, il a emballé et a traversé la frontière à Clovis d'être un disc-jockey ("Hank le Cowhand") à KICA.
Après 14 ans il est de retour au Texas, sur la radio KSEL de Lubbock, où il a formé son groupe, les cow-boys Palomino (avec Ball Ace à la guitare, Cecil Hadaway sur le violon, Harvey Wilson steel guitar, Curley Thomas à la basse, et Sam Baker au piano).
Entre 1949-1950, le groupe a enregistré une poignée de chansons via à la station KSEL, puis ils ont été signé par le label Star Talent de Dallas, qui a sorti "Boogie Dream Band."
Il rencontre Hank Williams là-bas qui chante "I Saw The Light".

Le revers de la médaille, "Dilly Dally Doodle," a été enregistré en 1947 par Hank Williams, en empruntant quelques lignes de "l'Move Over» d'Hank Harral, qui a été aussi un succès cette année.

Harral laisse les Hautes Plaines, en 1957, et part dans la ville de Big Spring (Texas) , et il arrive sur la radio KHEM.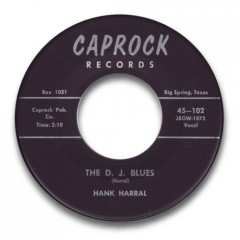 Là-bas, il forme le label Caprock et enregistre Dixie Rogers, le disc-jockey Durwood Haddock, Roy New & the Trans Pecos Melody Boys, Palomino Cowhands guitarist Ace Ball, et Hoyle Nix qui viennent tous du label "Star Talent"