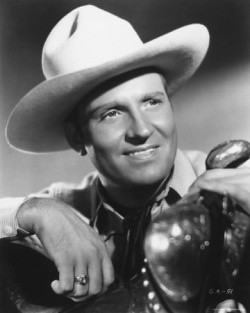 Orvon Grover Autry(29 Septembre, 1907 - Octobre 2, 1998), mieux connu comme Gene Autry, était un artiste américain qui a gagné la renommée en tant que cow-boy chantant sur la radio , dans les films , et sur la télévision pendant plus de trois décennies au début des années 1930.
Autry était également propriétaire d'une station de télévision, de plusieurs stations de radio en Californie du Sud, et le Los Angeles / Californie Anges équipe de la Major League Baseball 1961 à 1997.

De 1934 à 1959, Autry est apparu dans 94 films et 91 épisodes de la série télévisée de Gene Autry Show. Au cours des années 1930 et 1940, il incarnait la ligne droite-hero la shoote-honnête, courageux et vrai, et profondément touché les vies de millions d'Américains.
Autry était également l'un des personnages les plus importants de l'histoire de la musique country, considéré comme le deuxième artiste majeur d'influence du développement du genre, après Jimmy Rogers. Ses films de cow-boy chantant étaient le premier véhicule à porter la musique country à un public national. En plus de sa chanson signature, " Back in the Saddle Again ", Autry on se souvient encore de ses chansons de vacances de Noël , " Here Comes Santa Claus ", dont il a écrit,« Frosty the Snowman ", et son plus gros hit," Rudolph le renne au nez rouge ".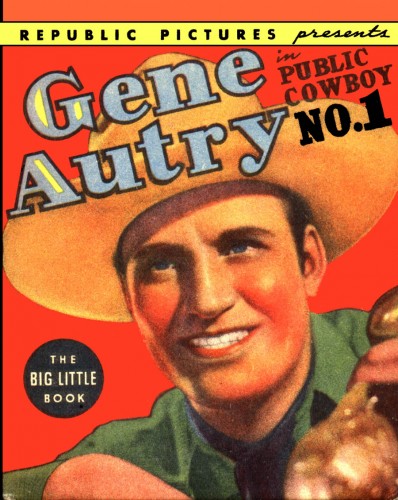 Autry est un membre du Country Music Hall of Fame et Nashville Songwriters Hall of Fame , et est la seule personne à être décerné des étoiles dans les cinq catégories sur la Hollywood Walk of Fame , pour le cinéma, la télévision, la musique, la radio, et de vivre performances.
La ville de Gene Autry, Oklahoma a été nommé en son honneur.