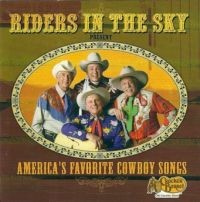 Le CD contient 13 pistes, dont la plupart sont classique cow-boy et des chansons Western, et parmi eux quelques-unes des plus belles oeuvres du groupe. Ils ouvrent avec"Back in the Saddle Again", qui ils avait déjà enregistré auparavant, mais jamais aussi bien que dans cette interprétation.
"Red River Valley "est magnifique, et" Tumbling Tumbleweeds "et" Riders in the Sky (A Cowboy Legend) "sont sublimes.
Ils font l'air traditionnel, «Buffalo Gals», reviennent à la vie dans le style vrai cavalier, et «The Old Chisholm Trail," avec Woody Paul, a un "son" qui transmet l'image de l'ancien sentier de conduite ainsi
la piste 13 est un bonus track qui a eu les Riders ont chanté dans le film, Toy Story 2. Il s'agit de "Roundup Woody."